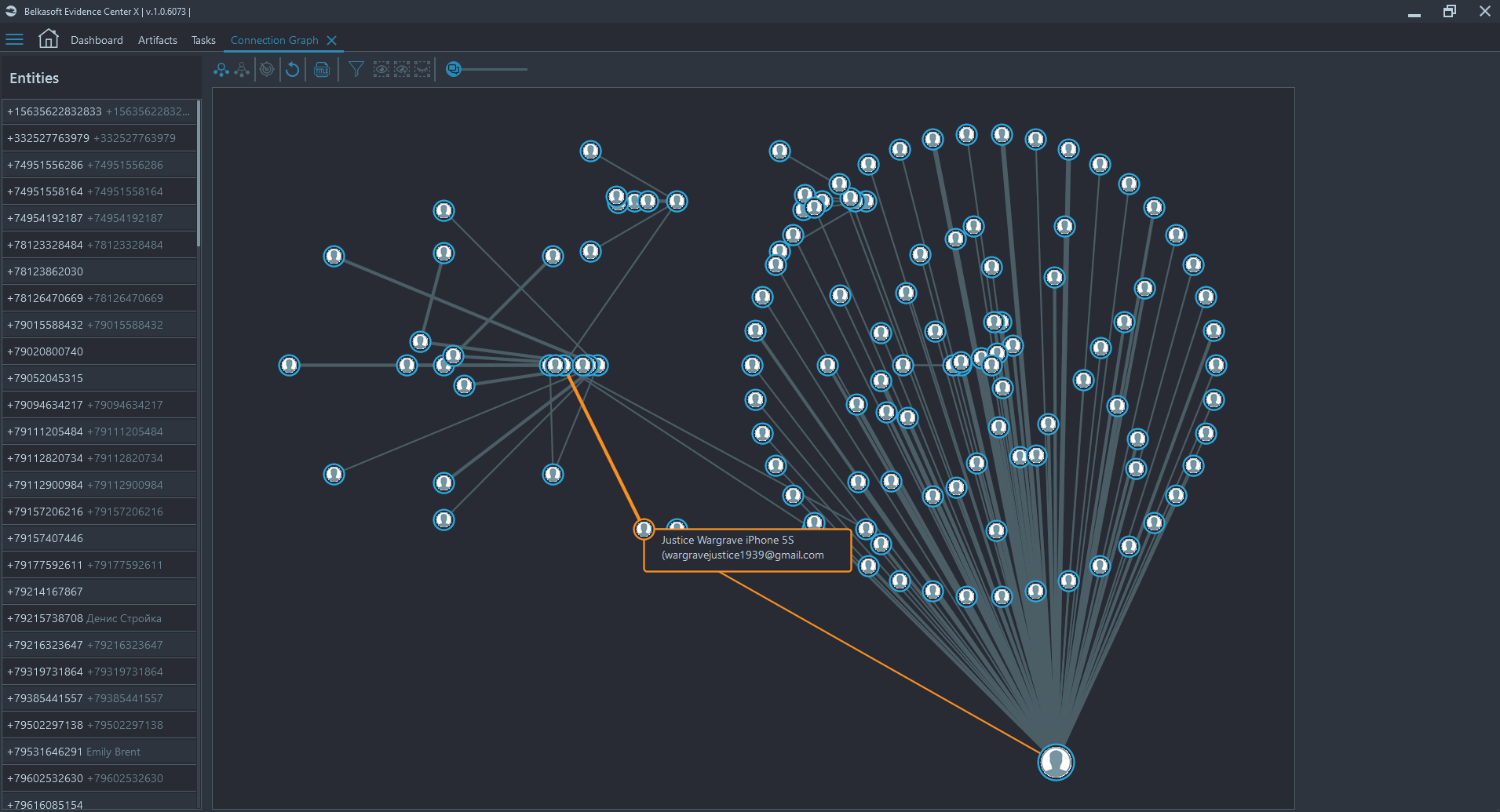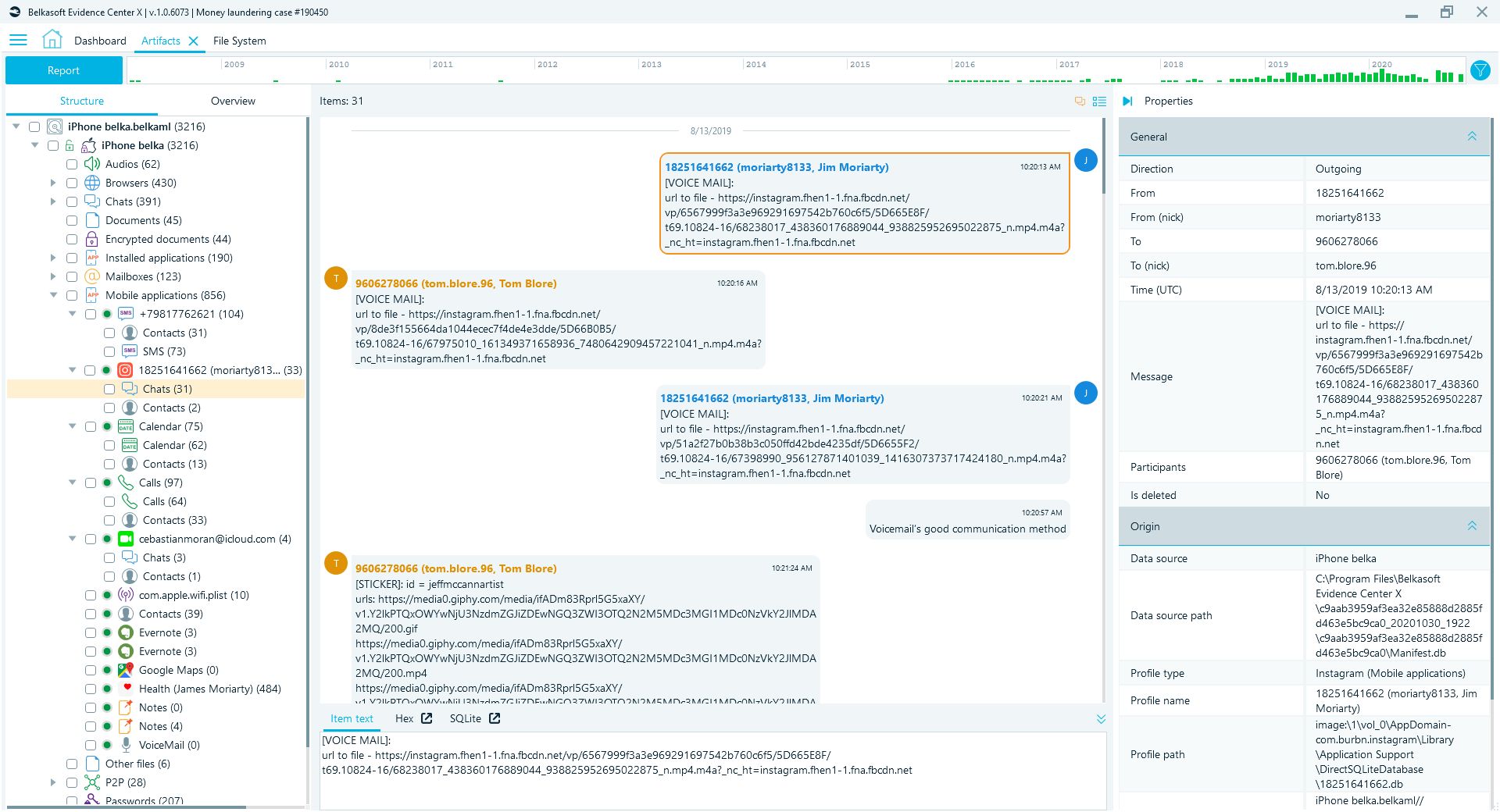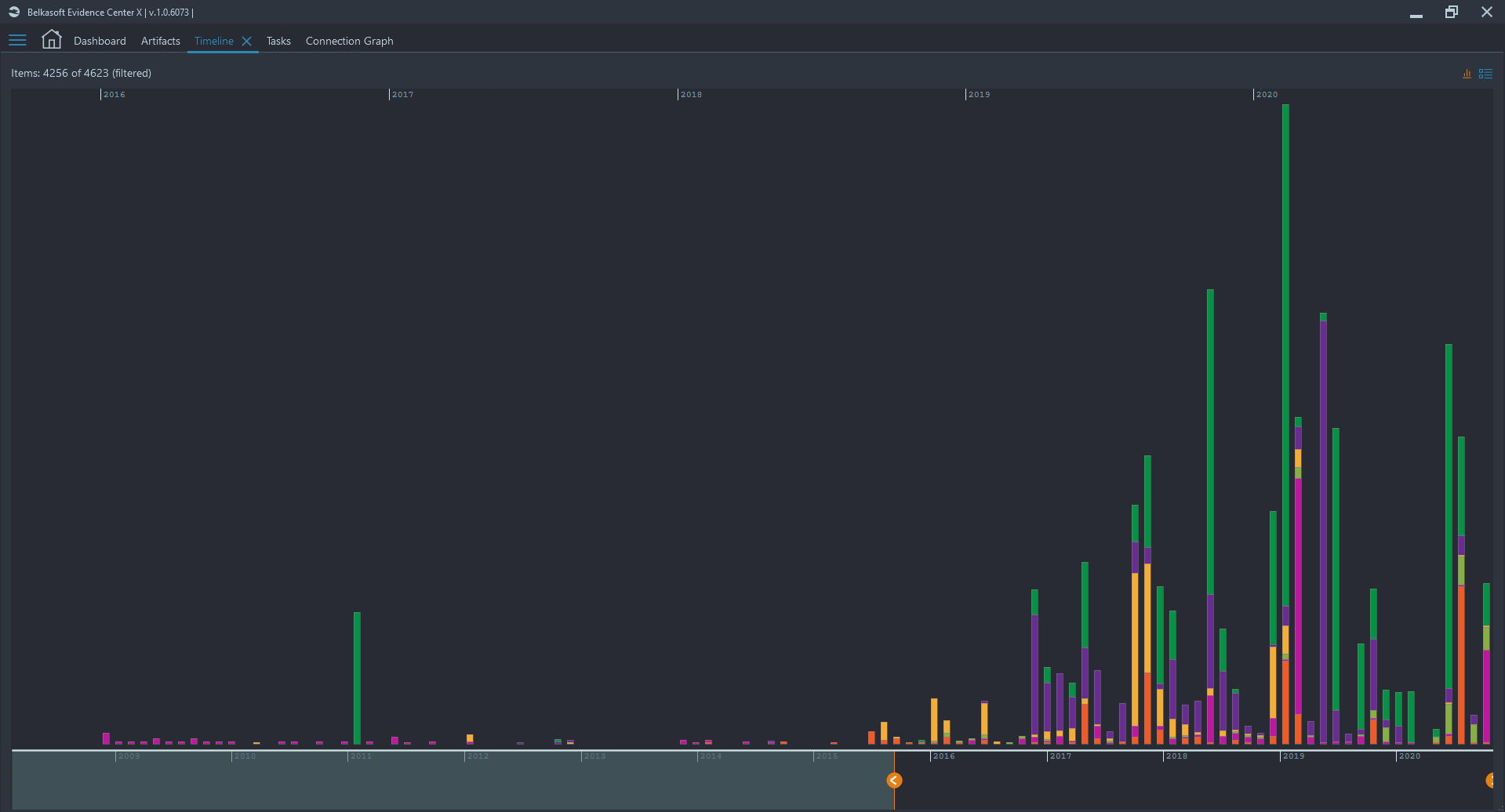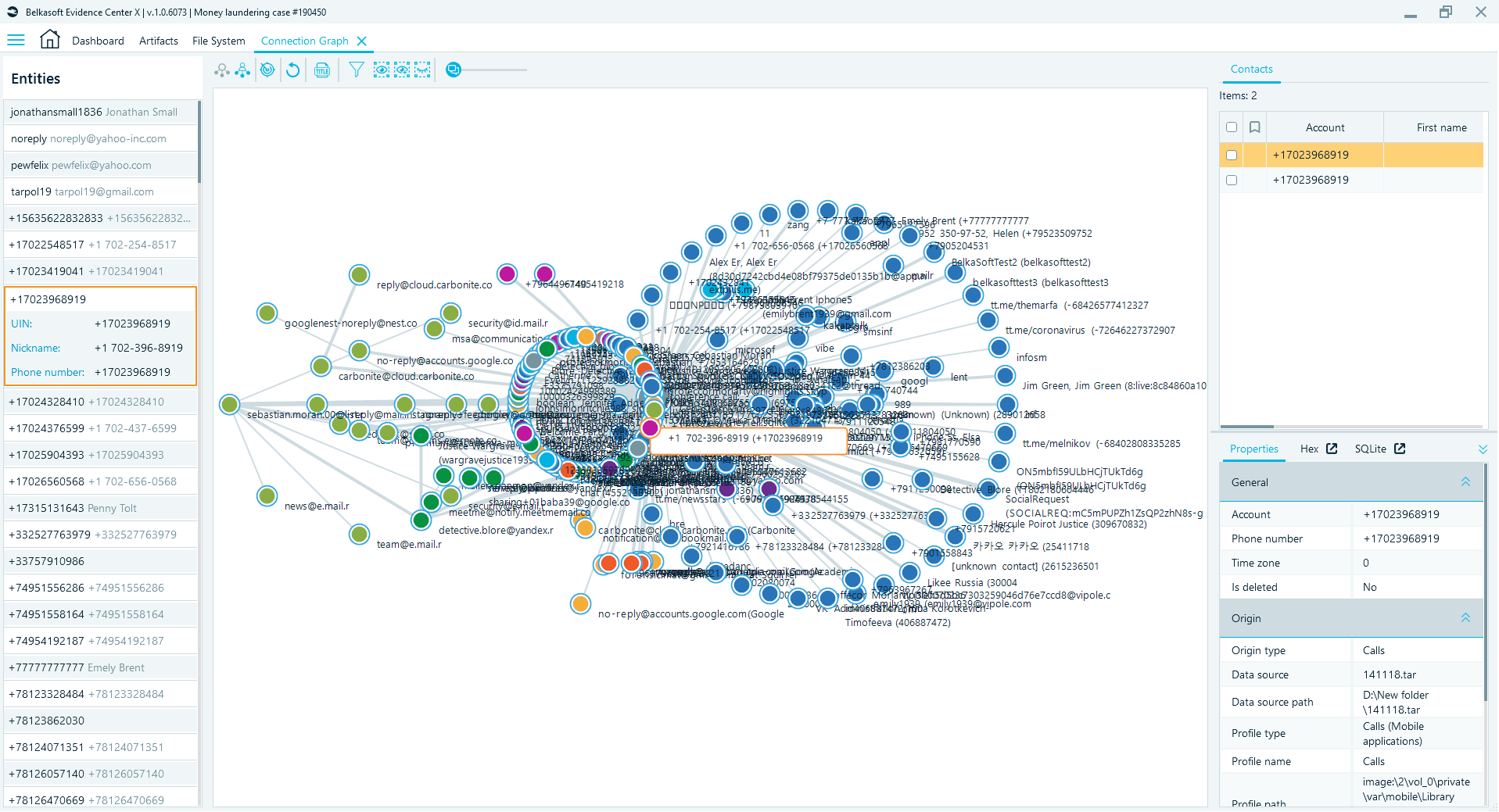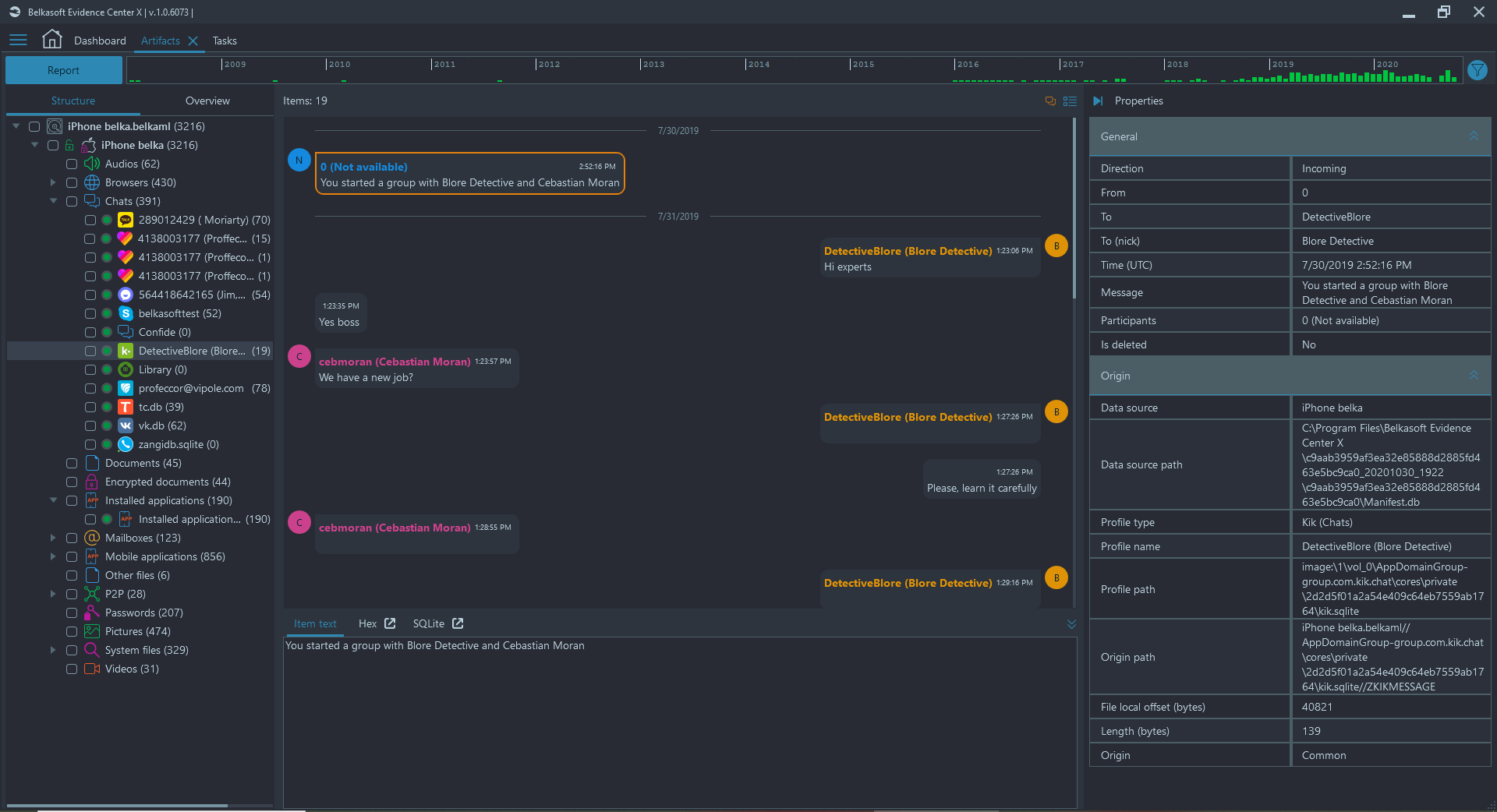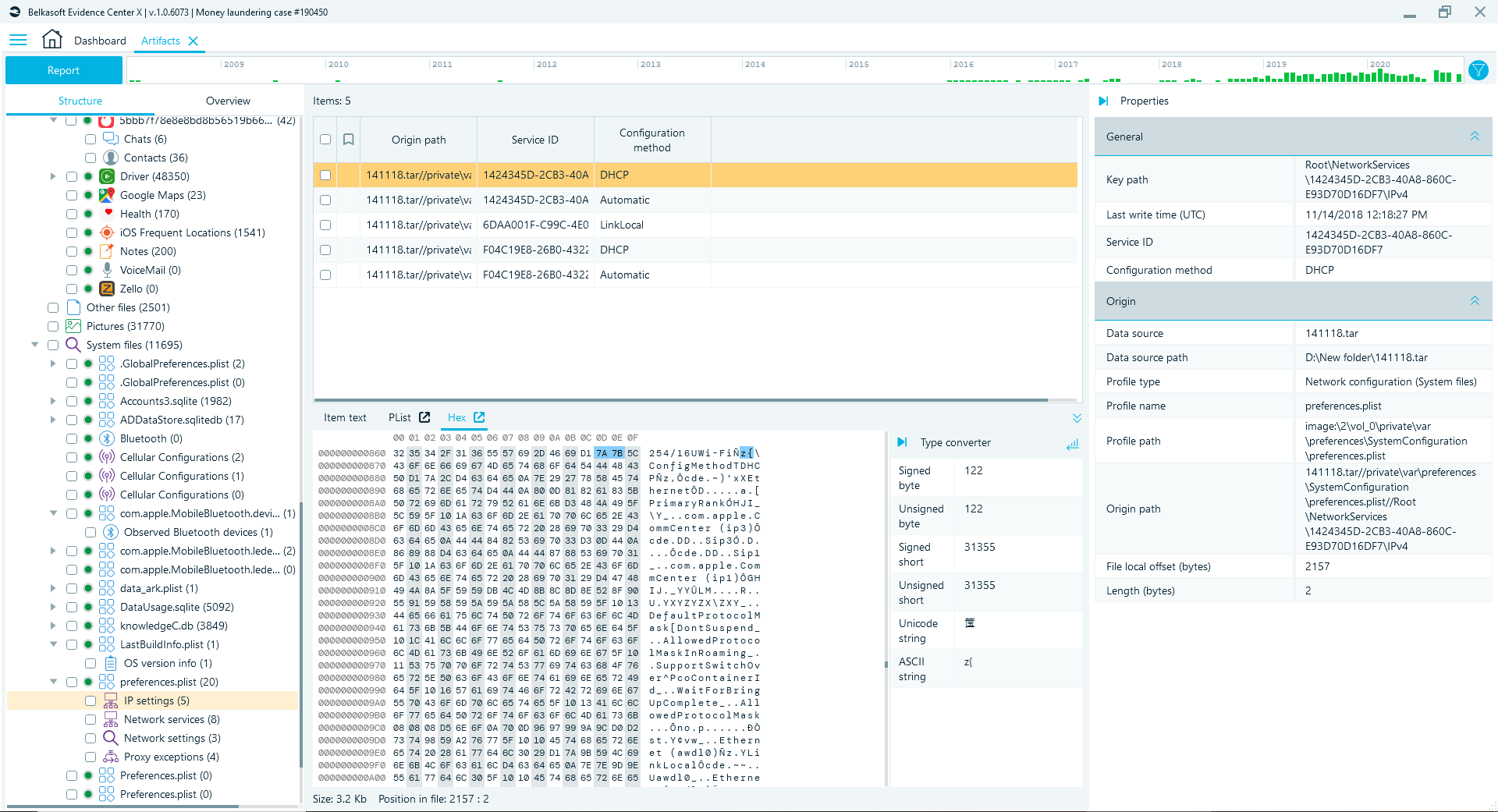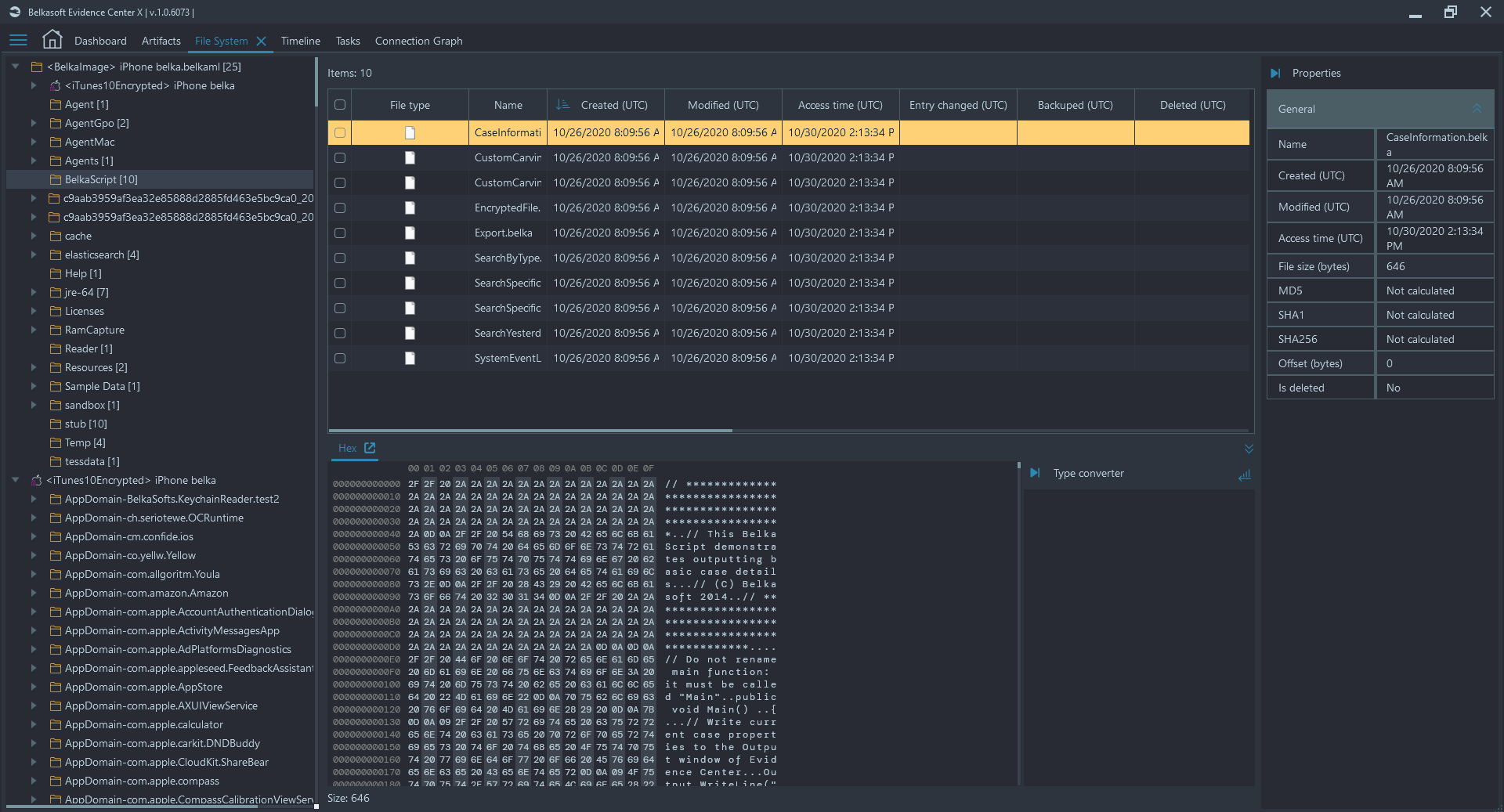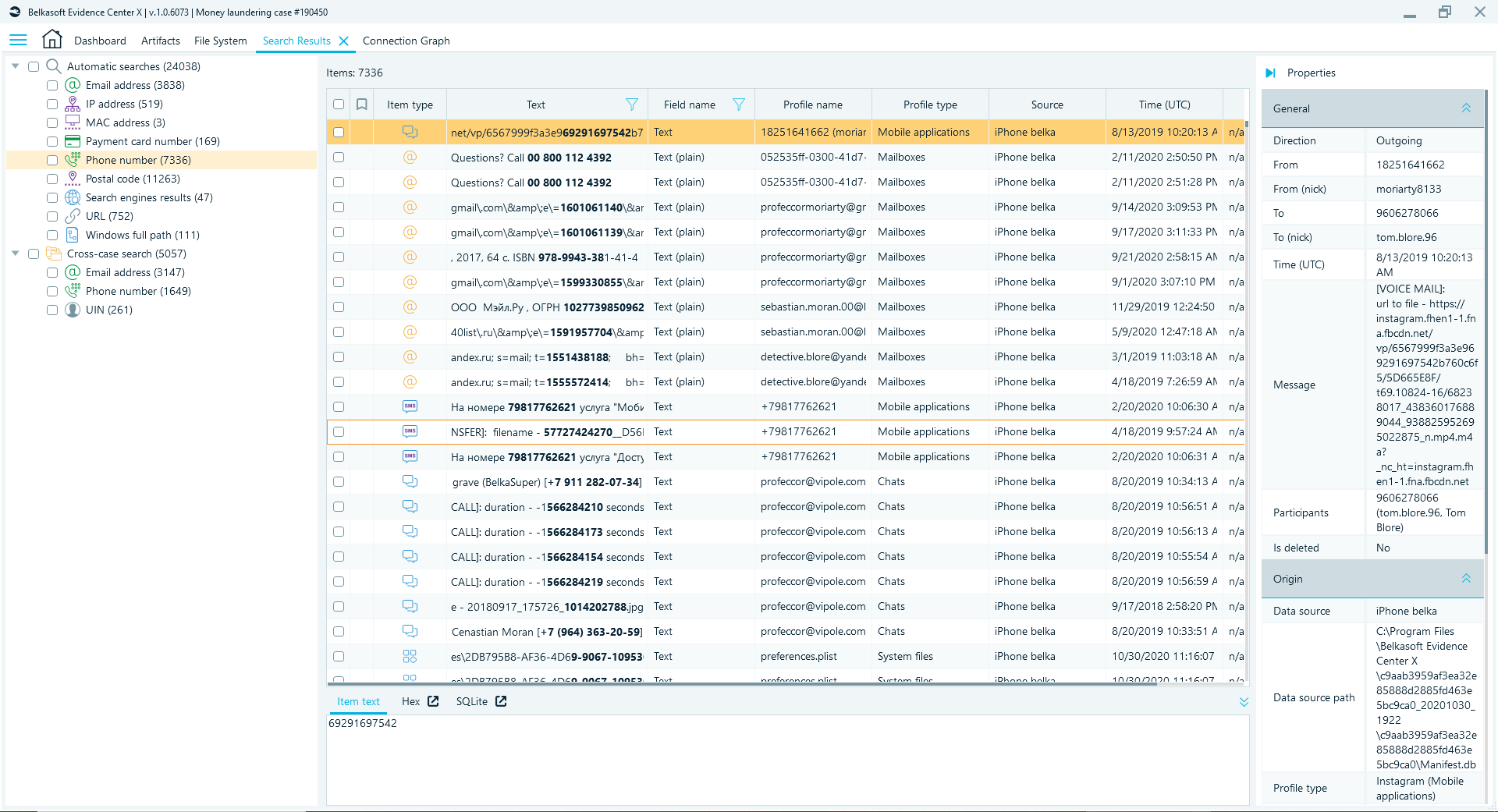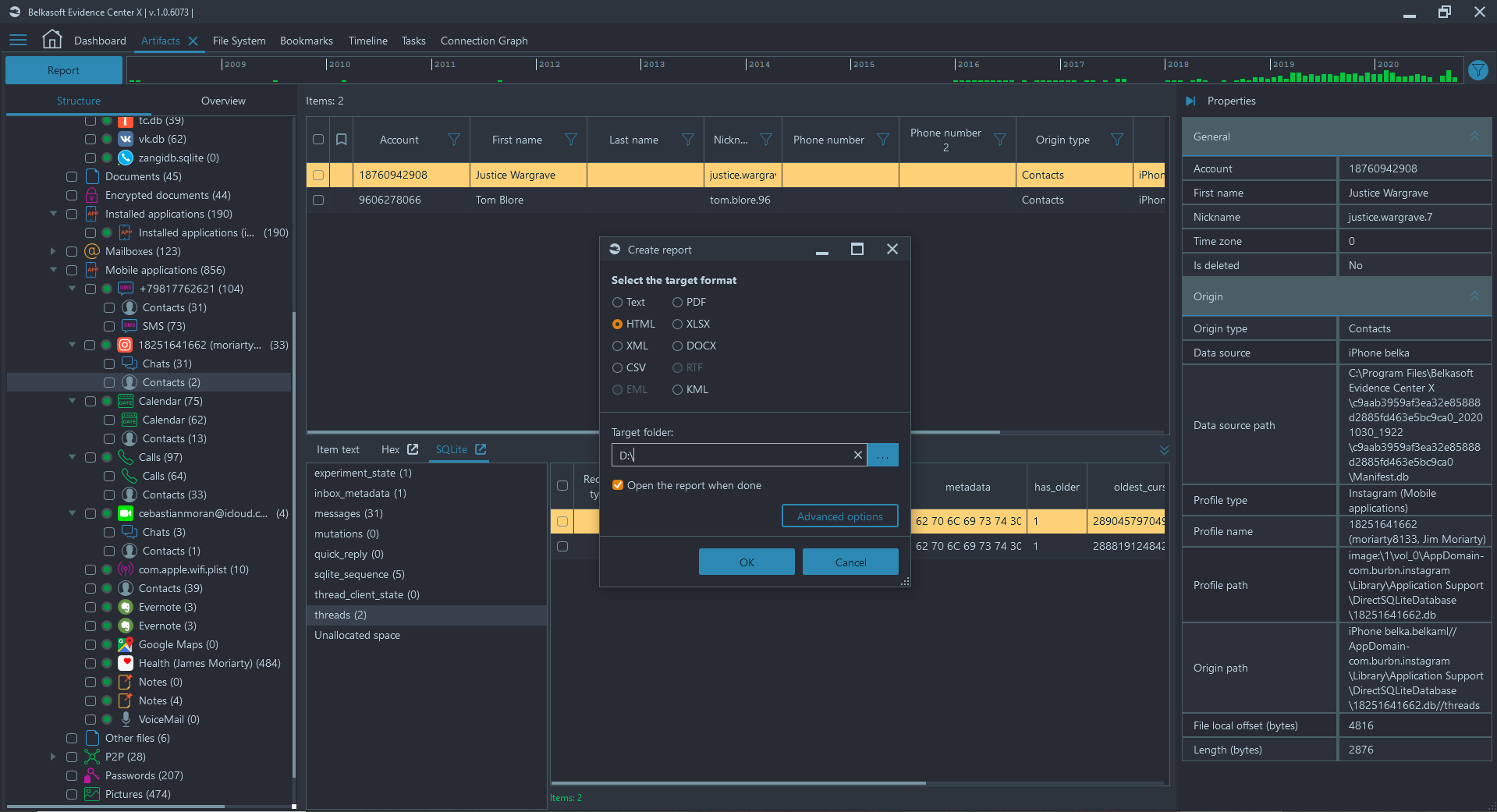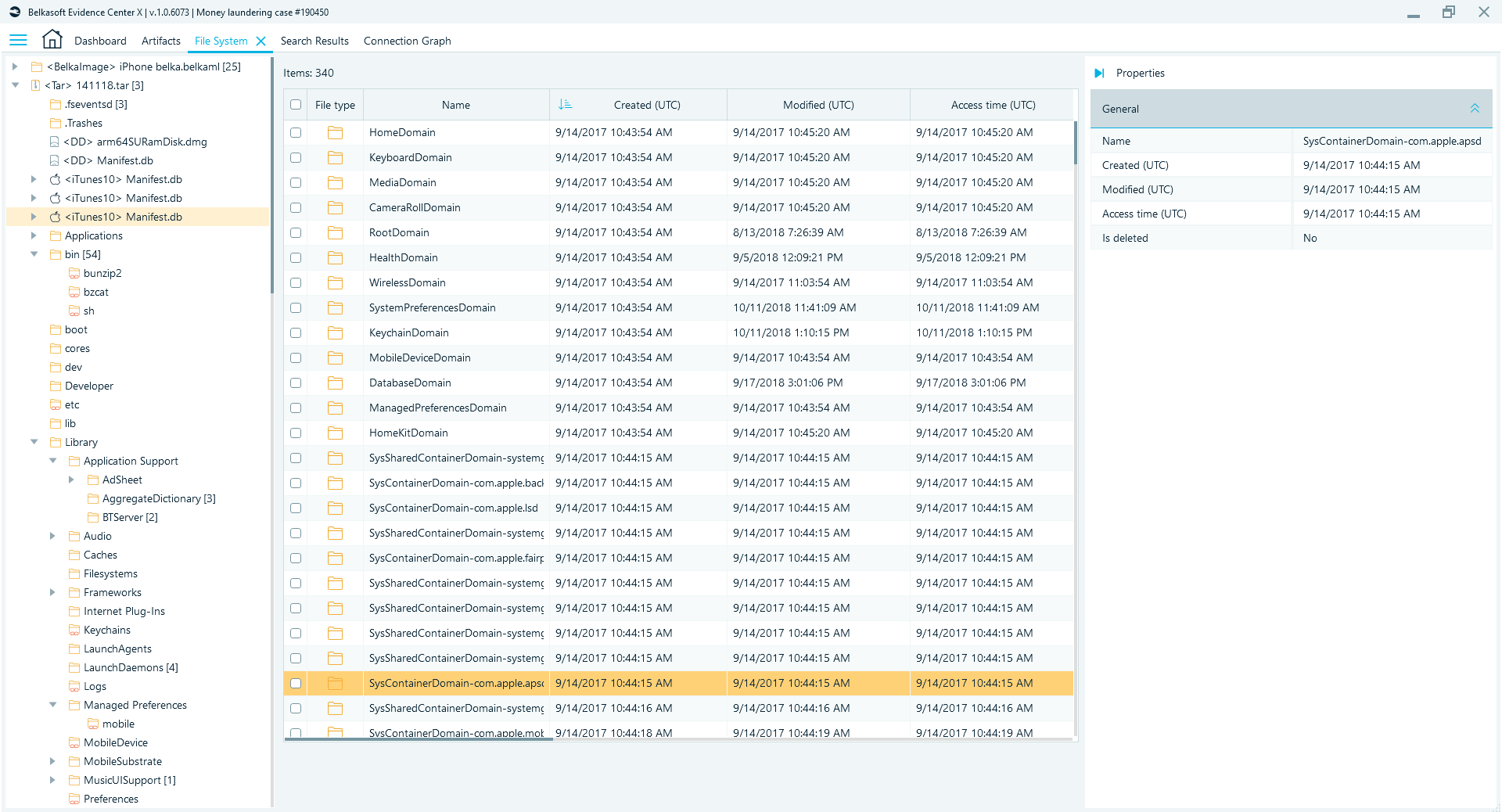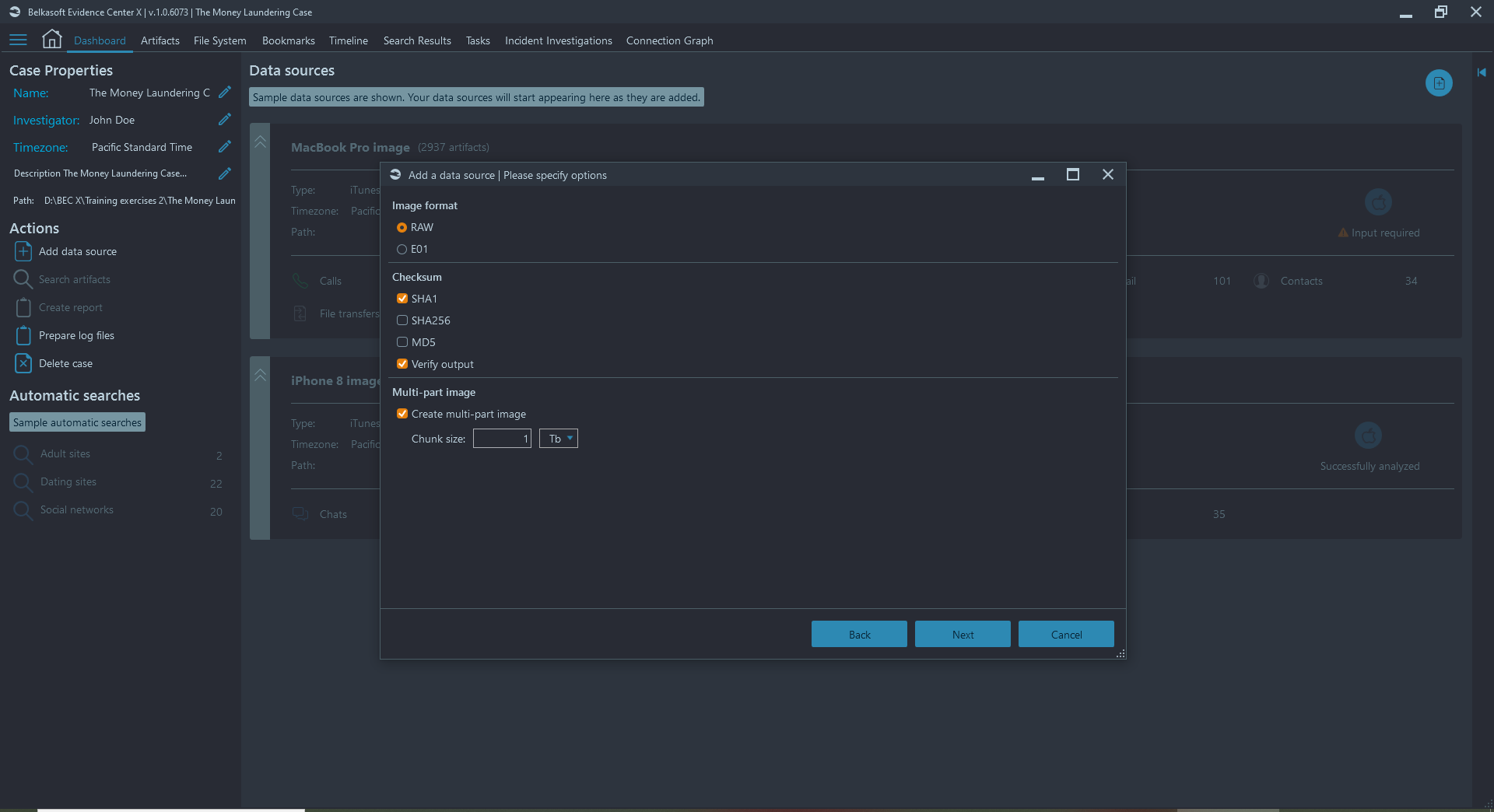 BELKASOFT EVIDENCE CENTER X
KEY BENEFITS
Easy to use
Belkasoft Evidence Center X works out of the box and can be easily integrated into customer workflows. The software interface is so user-friendly that you can start working with your cases right after the Belkasoft X deployment on your forensic workstation.
Comprehensive investigations
Belkasoft Evidence Center X acquires, examines, analyzes, and presents digital evidence from major sources—computers, mobile devices, RAM and cloud services—in a forensically sound manner. If you need to share the case details with your colleagues, use a free-of-charge portable Evidence Reader.
Quick and smart
While performing search tasks for evidence, Belkasoft X uses approaches that enable it to find the most forensically significant artifacts quickly instead of wasting time on redundant operations. Powerful analytical features such as a connection graph, a timeline and advanced picture and video analysis help you to uncover facts rapidly.
Save your time and effort
Belkasoft Evidence Center X automates search tasks, and thus the product can run unattended, you can multitask and complete an investigation at a quick pace.
Tailored to your needs
You can select a product edition that suits your workflow, whether you are an expert in a digital forensic laboratory of a federal law enforcement agency or in a digital forensic and incident response consulting company, an investigator in a local or state police department, or a private practitioner.
Time-proven
Belkasoft Evidence Center X is based on the successful Belkasoft Evidence Center and encompasses many years of experience, a large amount of user feedback, and expert suggestions from numerous investigators from both a law enforcement and corporate world.
TRUSTED BY THOUSANDS OF CUSTOMERS WORLDWIDE
I loaded on iOS image into Belkasoft product and was impressed
Belkasoft product gave me a clear overview of the progress while loading the image, the task manager tab does not need explaining and is self-explanatory which is nice. The tool has a good overview of data and found artifacts (per category) when the image was done loading.
Digital Forensic Examiner, Dutch Tax Agency
Belkasoft makes you feel like a seasoned specialist
Love the Belkasoft product and it is getting better and better. I loved how the ease of use and intuitive layout made me feel like an expert almost immediately. I like the fact that there is lots of work done on mobile forensics, continue with this and continue updating the software monthly with new exploits enabling the software to attack encryption and data acquisition.
Francois H. Putter, BlastQuest, South Africa
Belkasoft helped me completing my project
I enjoyed using Belkasoft Evidence Centre and it definitely helped me completing my project. I used Belkasoft on discovering social media communication, mostly from Viber and Facebook.
Petar Petrovski, Cybersecurity student at Edith Cowan University
It's really impressive how fast and excellent Belkasoft presents the gathered information
The software is really good contestant against my other forensic tools in my arsenal. It's really impressive how fast and excellent the software presents the gathered information which really speeds up the investigation no matter the crime that is being investigated.
Per Johansson, Swedish Police Authority
You and your product are great!
I found Belkasoft very straightforward to use and it helped me analyze a cloned hard disk very nicely! The trial period is a very good way of letting me know your product, its pros and cons, so I can assess it against the other options. I am very thankful for the possibility to make a "driving test" on Belkasoft! You and your product are great!
Devi Kerr, forensic consultant, Brazil
I found Belkasoft to be very user friendly
I found Belkasoft product to be very user friendly and it accessed the data quickly without having to handle the device. The data is organized and presented in a format that is easy to understand and follow.
Forest Clark, The California Department of Corrections and Rehabilitation
Belkasoft Evidence Center allowed me to retrieve crucial information and photos for the investigations
I recently dealt with a case of international pedophilia and sexual violence. The investigation took several months due to the large amount of data present in the seized hard drives and the partitions encrypted of some hard drives. The powerful script tool present in Evidence Center allowed me to automate the repetitive search operations and consequently considerable time was saved at least for the basic operations.
Cosimo de Pinto, Freelance investigator, Rome
This is probably the best toolkit on the market for comprehensive functionality.
We have been using the Belkasoft Evidence Center Forensic Toolkit on our Certified Professional Training Courses for 3 years now. In our opinion, and the opinion of many of our delegates who have used this tool, this is probably the best toolkit on the market for comprehensive functionality, ease of use and overall ROI, and it is highly recommended.
John Walker, Professor, DF and Cyber Security Trainer, the UK
Belkasoft Evidence Center helped me to succeed
The use of Belkasoft product saved me many hours of tedious work, thanks to which I could focus on the result and not on the way to it. A job with such a powerful tool as Belkasoft will be appreciated by anyone who has experienced the hardships of working with electronic proofs and Internet artefacts.
Krzysztof Bogucki, expert witness and forencis investigator, Poland
Belkasoft Evidence Center saved my business
Belkasoft Evidence Center has saved my business from ruins and helped me locate a rogue employee who was stealing vital information. I am so glad I chose Belkasoft for my IT Security and I would be without a job today if not for Belkasoft Evidence Center. Evidence Center from Belkasoft does 10 times to at least 100 times more than the next best similar software.
Thomas Mark Pullen IV, Pullen Commodities & Asset Acquisition Firm
WHAT'S NEXT?
TRY
FREE TRIAL
Start Belkasoft Evidence Center X free trial and experience its ease of use and reliability along with the cutting-edge digital forensics capabilities.
CONTACT
NEED ADVICE?
Talk to an expert who can help you to identify the Belkasoft configuration you need and answer your questions.