The upcoming version 1.10 of Belkasoft will offer a number of sound new features. Among them there are:
Built-in MFT Viewer
Alternate Data Streams (ADS) support
Android screen capturing support now for any application
Reworked mobile acquisition flow
Office365 cloud data downloading
Agent-based FFS iOS acquisition improvements
And the most intriguing feature... watch the video, no words are required!
Yuri Gubanov is a renowned digital forensics expert. He is a frequent speaker at industry-known conferences such as HTCIA, EnFuse/CEIC, FT-Day, CAC, CACP, ICDDF, and others. Yuri is the Founder and CEO of Belkasoft, the manufacturer of digital forensic software empowering police departments in more than 130 countries.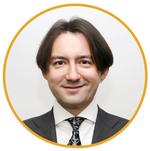 With years of experience in digital forensics and security domain, Yuri led forensic training courses for multiple law enforcement departments in many countries.
The webinar will take place on September 14.
Two time slots are available to suit most timezones around the globe:
1. 11am CEST (Berlin) / 5pm (Singapore) / 7pm (Sydney)
2. 10am PDT (Los Angeles) / 1pm EDT (New York) / 2pm (Rio de Janeiro)
Sign up to see the new version of Belkasoft X in action.