Belkasoft X Help Contents
Actions
Actions allow you to do various actions with the case.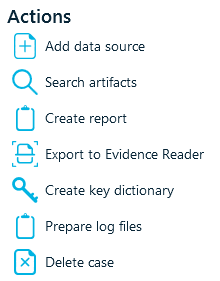 The following actions are available:
Add data source, which you use to add any number of devices and images.
Search artifacts. Using this action, you may locate any artifact already extracted by the product. Is important to mention that this kind of search does not search inside the entire drive or image. It also, does not look for files. It only searches for various artifacts like links, chats, documents, emails and so on, which you can then see on the Artifacts window.
Create Report. Using this action, you able create a report for the entire case. Should you like to generate a report for just a selected portion of data, please go to Artifacts and other windows.
Export to Evidence Reader. This function allows you to share all your findings with anyone, even if they do not have a paid Belkasoft X license. Evidence Reader is a free product, which helps a user to review cases or their parts exported from Belkasoft X.
Create key dictionary. With the help of Create key dictionary action, you can generate a file with all languages used in all the artifacts in your case. Such a dictionary can be a huge benefit when you are decrypting something encrypted by a user. Note that it makes sense to use a created key dictionary only for files encrypted by the same user to maximize your chances for success.
Prepare log files. Prepare log files option helps you when you have any difficulties working with the product. In such a case, run this action and send us the resulting archive, which will assist us in our efforts to provide you solutions for your issue.
Delete case. You can delete a case, which you no longer need.
See also:
Adding data source to a case
Searching artifacts
Creating reports
Portable Case with Belkasoft Evidence Reader