Hello again, brave CTF warriors!
Thanks to everyone for your participation in Belkasoft CTF aka BelkaCTF and congrats again to the winners. Great job!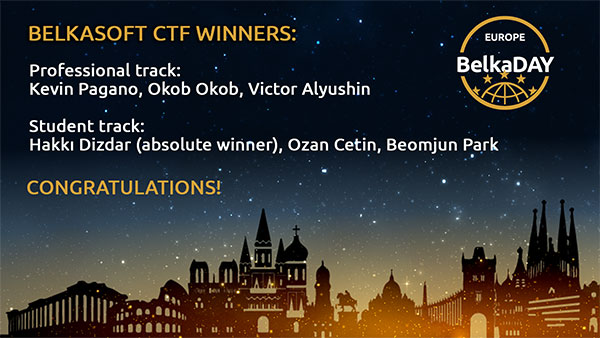 It was a very intense and interesting CTF. Believe us, it was interesting just following the scoreboard! Looking first to students occupying the first 10 spots on the scoreboard, then professionals gradually taking over (presumably, after their daytime work :)), first flags taken for most difficult tasks, then students taking the lead again. At the end, we had two quite unexpected winners, the only one who solved all the tasks, and another one who made it in the very last moments of the challenge. Talk about a tense and suspenseful 24 hours! If you follow biathlon competitions, it was like a biathlon time trial.

Our impressions and stats
Now that the CTF is over, we can give you some stats and some of our impressions:
We received way more registrants than we ever imagined. Out of a total of 424 registrations, 304 logged in. Our hope was to have around 100, in which we significantly exceeded
Among them we had the following split:

Registered professionals: 271, students: 153
Logged in professionals: 198, students: 106

155 contestants scored within the CTF (164 attempted). We did not count attempts made before and after official competitions time. It is possible to continue solving tasks without getting scores
The four rightmost tasks were the hardest for participants to solve. Only 15 contestants solved one or more of them, 9 solved two or more, 5 solved three or more while only 1 (our absolute winner) solved all four
We were pleased with the fact of having made such a close guess on the tasks' complexity, given the final results. Winners were determined based on their score, not on the speed of solving the challenge.
Flags and score stats:

First accept: 16 Mar 2021 13:00:31 CET by Emre Çelikkol (31 seconds after the start)
Last accept: 17 Mar 2021 12:57:45 CET by Ciprian Lazar
Unfortunate late submit: 17 Mar 2021 13:00:27 CET by Pero Cmilj on task Witness (27 seconds after finish)
Total flag attempts during CTF: 4378
Total accepts (correct answers): 757 (17.3% of total attempts)
Total points scored: 53973
Biggest bruteforcer: Emre Çelikkol with 150 wrong attempts

Funny enough, there were multiple attempts to submit an already entered correct flag, we counted 78 of them
Telegram support group counted 93 members (including organizers). It appears that most participants preferred to solve tasks on their own (and actually many of them did very well!)
Our advice
Based on our first experience, we would like to give our humble advice to those of you who are going to continue participating in upcoming BelkaCTF challenges:
Login in advance to check for important details such as a CTF image download link, support chat invitations and any other additional information
Download the image in advance
Important! Download and activate Belkasoft X beforehand. Some participants ran the software after the beginning of the CTF to find out that their trial was expired because they had used it before. Some requested the software after the beginning of the challenge when our CTF team was too busy to send a link in a timely manner
We noticed people solving tasks together from the same account. This account did not win, but if it did, we would have disqualified it. Please don't do that, we see you! :)
We do recommend you join the BelkaCTF Telegram support chat. It is helpful if you are unsure about something, someone has likely already asked your question and received an answer. We received several dozen requests there for clarification and we answered all of them
Did you enjoy the CTF?
Would you like to cheer up our hardworking team? Please do the following:

See also