Belkasoft X Help Contents
Reviewing geolocation data
Belkasoft X allows you to work with various artifacts having geolocation data inside.
Which artifacts might have geolocation properties?
The following artifacts supported by Belkasoft X may have geolocation data:
Pictures. If a picture is shot using a modern smartphone with GPS module, its EXIF properties will contain geolocation data, which will be extracted by the Belkasoft X.
Online map search results. If Google Maps or a similar services were used in a browser, search result links will contain geolocation data. Such links will be processed during browser analysis, and the geodata will be extracted.
Mobile map apps. Such apps (including mobile Google Maps) may store the users recent searches, favorites and routes, which will be extracted by Belkasoft X.
Taxi apps. Taxi apps such as Uber or Gett may store your ride history, including start and finish points, user searches and favorites.
Chat apps. Some chat apps allow to share user location with their peers and this info can be extracted.
Fitness tracker apps. Some trackers may store tracks of user activities such as jogging.
and many other artifacts.
Geolocation data node
To review all geolocation artifacts found by Belkasoft X, you should open Artifacts window, select Overview tab, and find Geolocation data node. Geolocation data is not shown on Structure tab.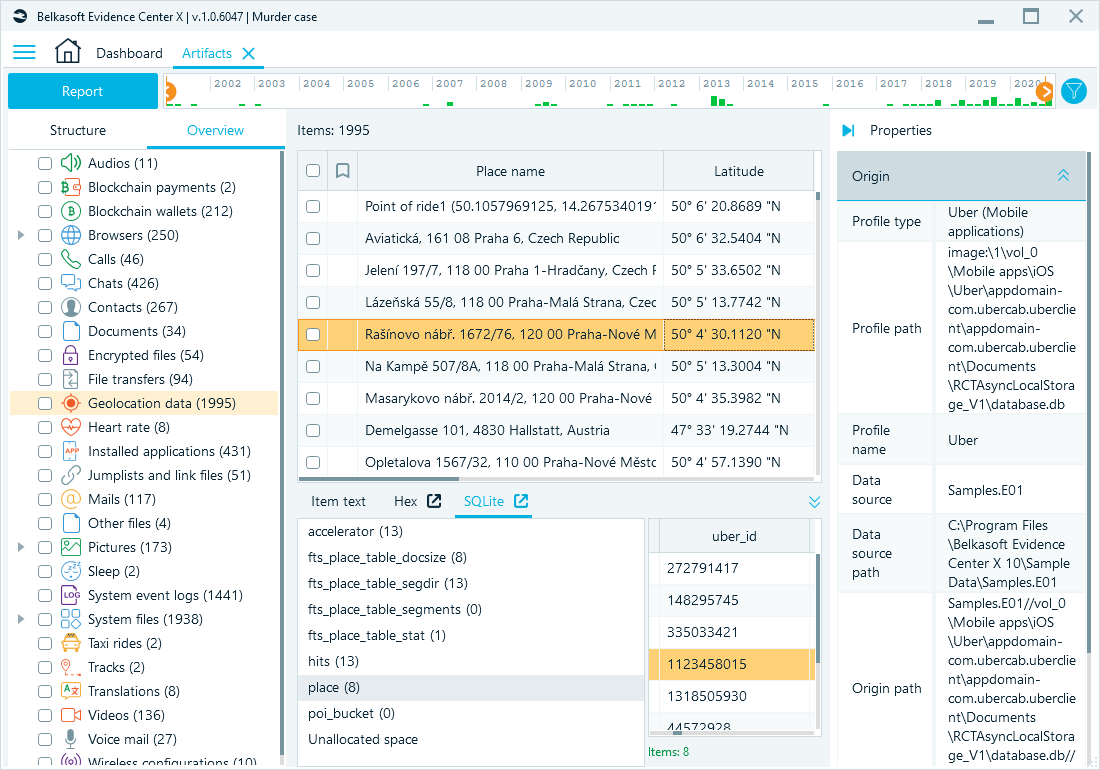 The artifact list for Geolocation data nodes contains the following columns:
Place name. Can be a name (if this is a favorite in some app) or a link (if this is Google Maps search or similar).
Latitude and Longitude. These are coordinates of a corresponding point.
Latitude2 and Longitude2. These are second coordinates for stored offline maps. Some apps allow a user to store map for offline browsing, two coordinates of saved map corners are stored.
Origin type. This column displays where corresponding location came from: a browser URL, a picture, an app bookmark or favorite and so on.
Other columns are not geolocation-specific (e.g. data source, profile and origin path).
See also:
Pictures with GPS
Showing geolocation artifacts on Open Street Maps or Google Earth
Exporting geolocation artifacts to KML format