Belkasoft X Help Contents
Showing geolocation artifacts on Open Street Maps or Google Earth
Belkasoft X allows you to review artifacts having geolocation on Open Street Maps (if you have an Internet connection) or Google Earth (if you have it installed locally). To do so, you can
right click corresponding node on Overview tab (such as Geolocation data, Browser URLs, or Pictures) and select Show on Map or Show on Google Earth menus.
check particular artifacts in the corresponding artifact list, right click and select Show on Map or Show on Google Earth context menu item.
If you selected Open Street Maps and you have Internet connection, the product will show you all chosen artifacts on a map: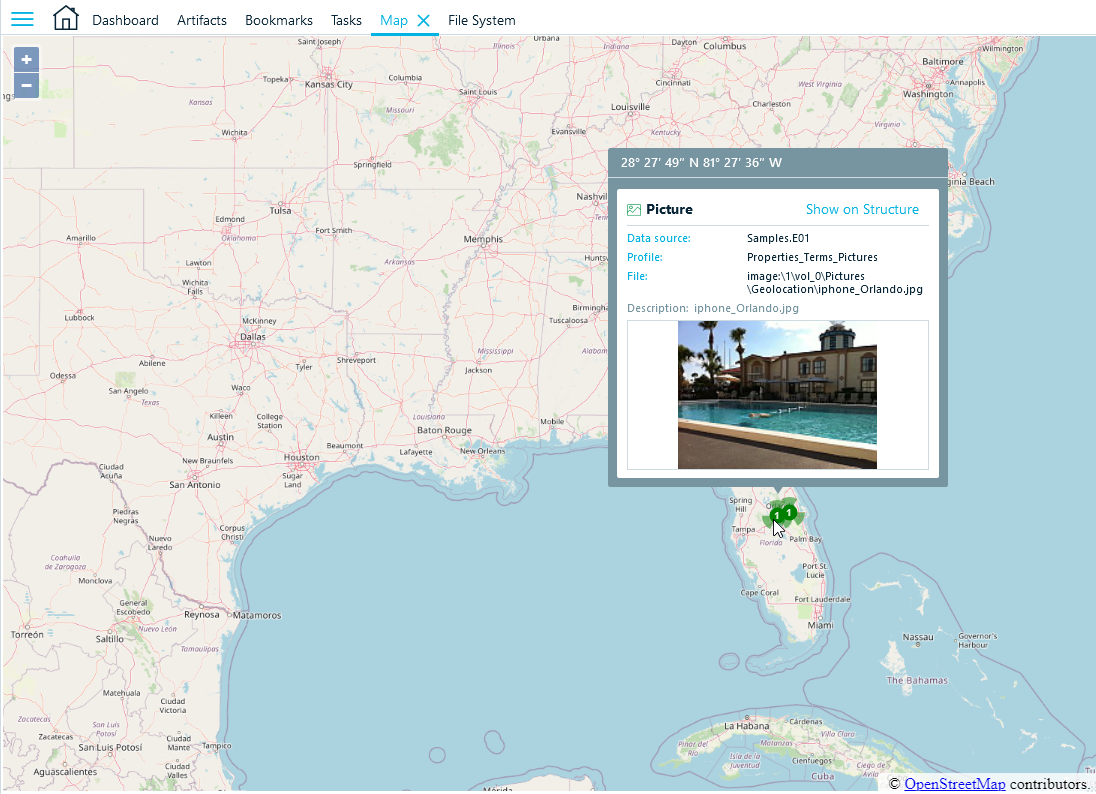 On this picture, you can see two locations, clustered into two green points. You can zoom in and see these locations separately.
The map inside Open Street Maps window has the same controls as Open Street Maps in a browser. You can zoom in or out by using mouse wheel or +/– buttons, Map or Satellite views are also available, as well as other features.
If you click on any particular location or a cluster, you will see a tooltip or several tooltips, showing properties of each location. Show on Structure navigates you to the item in Structure tab.
You can create a report of a selected map view by right clicking on the map and selecting Create report context menu item. Along with artifact location properties, a current view will be included into the report.
You can also copy the current view as a picture by using Copy to clipboard context menu item. You may then paste it to any graphical editor, document or even a chat.
See also:
Reviewing geolocation data
Pictures with GPS
Exporting geolocation artifacts to KML format