Belkasoft X Help Contents
Portable Case with Belkasoft Evidence Reader
Export to Evidence Reader function allows you to share all your findings with anyone with a PC, even if they do not have a paid Belkasoft Evidence Center X license. Evidence Reader is a free product, which helps a user to review cases or their parts exported from Belkasoft X.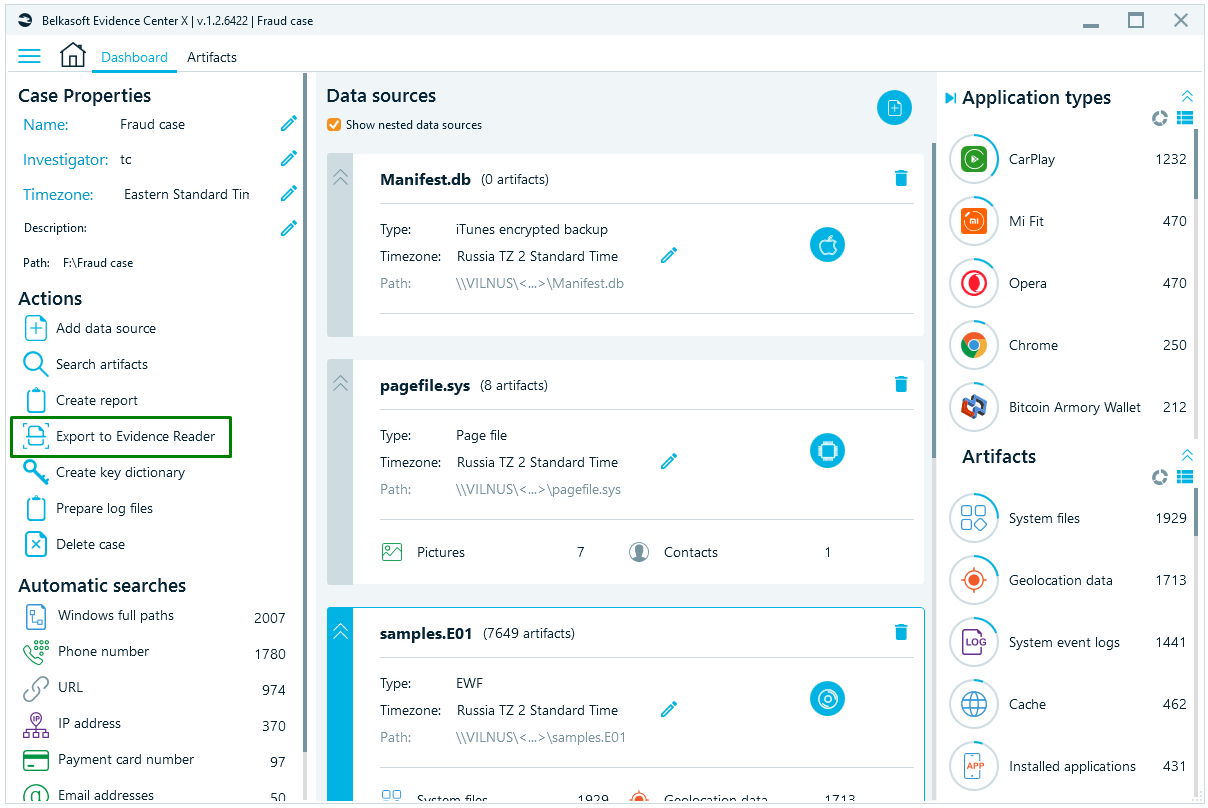 Why use Evidence Reader
Evidence Reader works in read-only mode, is portable, does not require any installation. And is particularly useful for splitting work on a case. Apart from splitting work among several investigators, Evidence Reader helps you with long-running cases. Consider this, if you would like to make sure that your case database is read without flaws in a year or more from the day it was created, export your case to Evidence Reader. Since Belkasoft X is evolving quickly, in a year or two, an older case may become unreadable by a newer versions of Belkasoft X. At that point, the best way to open such case would be to use Evidence Reader created at the time as export to Reader was performed.
Exporting data to Evidence Reader
In order to export case data to Evidence Reader, go to Dashboard window and select Export to Evidence Reader item from the Actions list: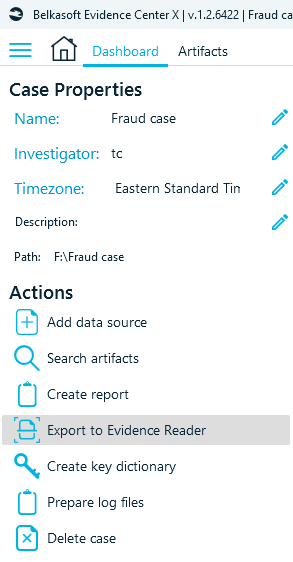 The following window will open, allowing you to select profiles to export. You can choose to export the whole case or only selected profiles:
Select data sources and profiles you would like to export and click Next. Data sources and profiles, which are not checked, will not be exported.
On the second screen of the export process, you will be asked for a target path for output files. Here you can also choose to Copy Evidence Reader executables to the target folder and to Save media files.
Copy Evidence Reader executables. If you export Reader multiple times, you may decide not to include it to every folder and only do this for the first time. This helps you to save disk space and time spent for exporting.
Save media files. This option saves all media (pictures, videos, etc.) from the original case to the Evidence reader, so that media files can be examined even when the original data source is disconnected.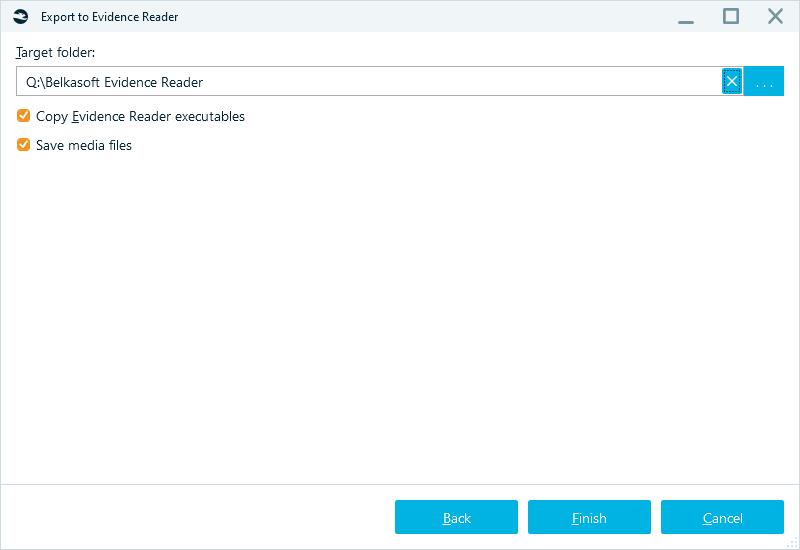 Click on the Finish button and wait until the task is completed. Inside the target folder, you will find a subfolder with the case name, which contains all needed files. You can copy all the subfolder contents and give to another user.
Why cannot I export data to Evidence Reader?
If Export to Evidence Reader button or menu item is greyed out, this means that your SMS plan is expired. It is not allowed to create Evidence Reader cases after the support expiration, so please renew your SMS plan.
In addition, trial version of Belkasoft X does not allow exporting data to Evidence Reader.
Evidence Reader video turorial
You can watch how to work with Evidence Reader in a tutorial below:
Evidence Reader limitations
Reader has an interface similar to Belkasoft X, but a bit more simplified. Particularly, you will not be able to:
create a case
acquire data
add or delete data sources
analyze or re-analyze a data source
check for malware
do hashset analysis
extract keyframes from videos
analyze pictures
and so on
However, you will be able to:
do searches
run reports
create, edit, and delete bookmarks
It also has different color scheme to help distinguishing Evidence Reader from Belkasoft X: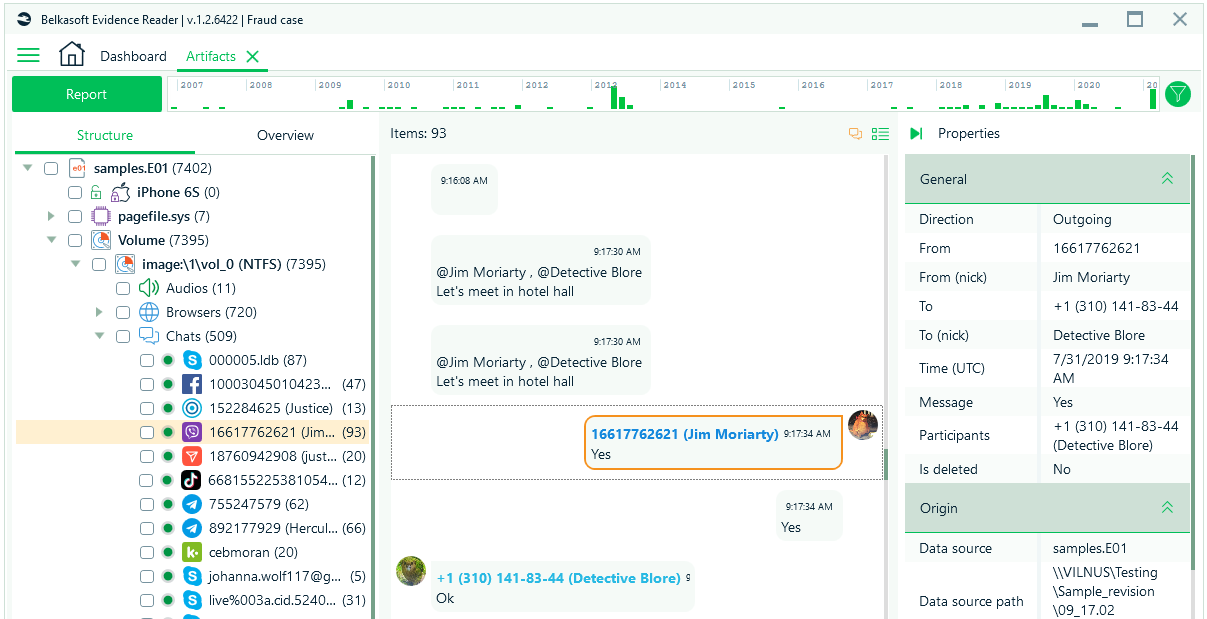 Request a price quote for Belkasoft X below.