Belkasoft X Cloud forensics support
Cloud applications and services are constantly evolving. Belkasoft X provides the following cloud forensics support:
Analysis of cloud client applications

Google Drive
Dropbox (with decryption)
One Drive
Yandex.Disk
Flickr
Belkasoft X can also analyze the RAM artifacts for cloud services that lack client applications.
Acquisition and analysis of data stored in the cloud

Email:

Yahoo
Hotmail
Opera
Yandex
Mac.com
and 25 more webmail clouds

Google Clouds:

Google Drive
Google Keep
Gmail
Google Timeline
Google Sync
Google MyActivity

Huawei
iCloud (applications data)
iCloud (backup downloading) and keychain
Instagram
MEGA
Microsoft 365
Telegram
VK
WhatsApp
WhatsApp with the help of a QR code
You can acquire a cloud account and add it as a data source.
Go to the top of the window. Click on Edit.
From the list, select Add data source.
(Tip: To quickly add a data source, use the Ctrl + Shift + F shortcut)
Click on Cloud.
Choose the cloud service provider or application you want to analyze.
Email
If you select Email, select the email service provider: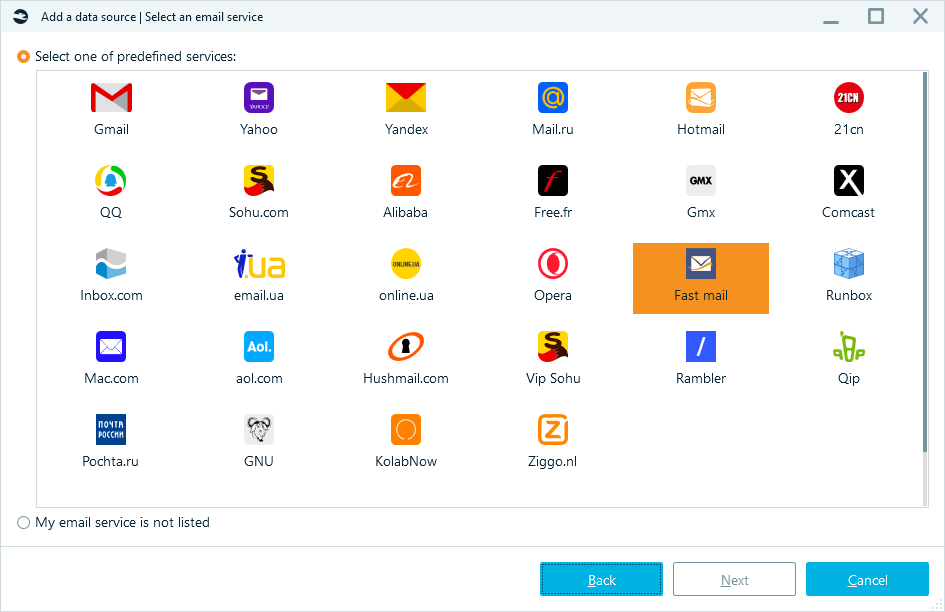 Type in the email address and password.
Specify the mail protocol
Click on the Next button
Note: If you cannot find a webmail cloud in the Server list, you can select Custom server on the previous screen and fill in Address and Port manually (they will be enabled in this case).
Google Clouds
If you select Google Clouds, do the following:
Select the specific Google service
On the authentication screen, choose your preferred authentication method
Click on the Next button
In general, you can use any of the following options to authenticate the login:
Consent screen: If you click on the Next button on the Consent screen, you will be directed to a browser window where the Google request page loads. If the user account from which you want to acquire data is logged in, you will just have to click on the Allow button. Otherwise, you will have to input the account credentials.
Refresh token: If you have a refresh token, you can use it to access the account without going through the consent/authentication screen.
Email address and password: If you know the email address and password for an account, you can enter them to enter the account's mailbox and download the data there.
Account login and password: If you know the user credentials for iCloud, Instagram, or WhatsApp, you can enter them to access the profile and download the account data.
If you try to log into an account that has two-factor authentication enabled, you will be prompted to enter the code that was sent to the phone number linked with the account.
See also