With Belkasoft X you can perform a full file system acquisition of numerous iOS device models. The product can acquire image of an iPhone or an iPad without you doing jailbreak! The acquired image is the same full file system copy like the one obtained with a jailbreak or checkm8-based acquisition however, unlike checkm8, it works on a broader range of devices and iOS versions.
Below you can find a list of requirements to use this method:
iOS device models: iPhone 5S to iPhone X as well as newest iPhone XS/XS Max, iPhone XR, iPhone 11/Pro/Pro Max, iPhone 12, iPhone 13, iPhone SE (2nd gen), iPad Air (3rd gen) and iPad Pro (3rd gen) and others
iOS version: 10.3.3 to 14.3 and 15.0 to 15.1.1 (full file system and keychain), and 15.2 to 15.3.1 (full file system only)
Apple Developer: You must have an Apple Developer ID.

Note: since v.1.3 of Belkasoft X you do not have to have a paid Developer ID, however in case of free one you will have to switch on the Internet connection on a device

Antivirus: Antivirus must be switched off otherwise it may delete the agent since it works like an exploit
Internet connection: Internet connection should be switched on on the computer with Belkasoft X (otherwise agent will not install)
Approximately 100Mb of free space on the device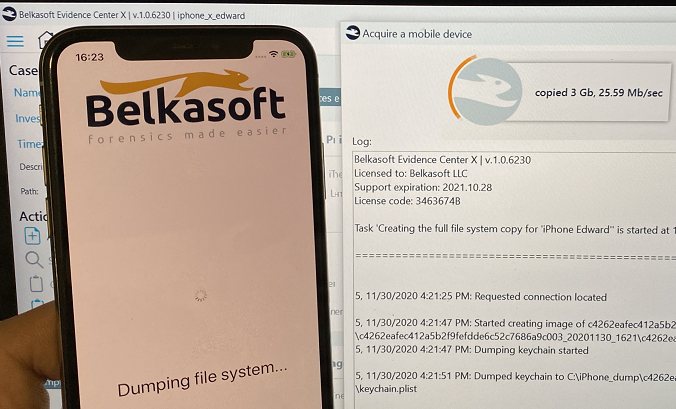 Belkasoft Agent on an iPhone Being Acquired
Sign up for a webinar on iOS acquisition!
See also