Belkasoft X Help Contents
Creating a report
A report is the standard result of an investigation. Belkasoft X allows you to create reports in multiple formats for different data sets. You can create a report for a case, profile(s), selected artifacts, or a bookmark.
To create a report for a case, do this: Go to the Dashboard tab. Under Actions, click on Create report.
To create a report for an artifact, folder, or detail, do this: Click the item for which you want to create a report. Right-click on the item. Select Create report.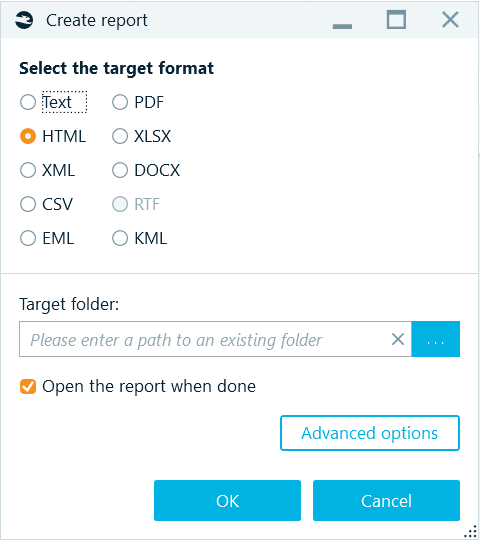 Choose your preferred target format. Specify the Target folder.
If you want to view the report quickly after Belkasoft X creates it, tick the Open report when done checkbox.
If you want to customize the report—in terms of formatting, style, and other attributes—click on Advanced Options. Continue on the screen presented.
On the Create report screen, click on the OK button.
See also:
Creating reports
Report options
Including a map to a report
Including a connection graph to a report